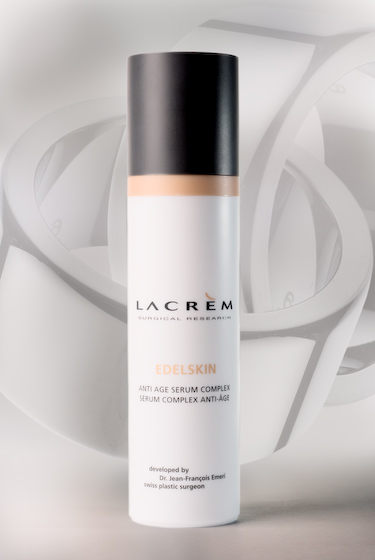 Anti-Aging Serum Complex 50 ml / 1.7 fl. oz.
A complete therapy of light for your skin, this fresh emulsion reveals a radiant skin that is
incontestably younger.
90% of women using the serum for the first time
attest that wrinkles are softened, skin is
smoother and visible imperfections greatly reduced.
"Instant Effect" technology delivers exceptional
results that are not possible from other products.
Dermatological Expertise
---
This elixir was perfected using one of the basic foundations of esthetic medicine: the visible reduction of wrinkles is made possible when shadows created by the grooves of adjacent wrinkles are reduced. Therefore, the scientists of LaCrèm have perfected this product, correcting this effect by transforming shadows to luminosity…

Active Technological ingredients
---
This skin care cream, a true concentrate of brilliance for the skin, is enriched with an exclusive Hydralift complex, composed of Edelweiss, of Ginseng, algae extracts and papaya which bathe the skin with energy and hydration necessary for it to defend itself against harmful environmental agents.
This synergic association is reinforced by an active anti-wrinkle technology called Instant Effect technology: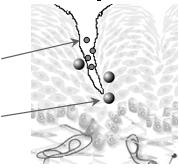 - effective soft focus micro particles that refocus the effect of light on the skin, reducing the visibility of wrinkles and erasing imperfections.
- spheres of collagene that penetrate the heart of the wrinkle infusing it with water to eventually push it outwards.
LaCrèm's scientists developed this serum to have a lasting effect.
This is why the formulation has been coupled with a revolutionary peptide called long term action anti-wrinkles that inhibits wrinkle forming muscle activity.
Esthetic advice
---
Apply in the morning on a perfectly washed and toned skin in combination with the anti-age Edelskin cream or the Luxury morphing face cream. In the evening, for an intense surge of luminosity, apply the product twice under your make-up. This will replace your usual skin care product and will give your skin an incomparable brilliance.