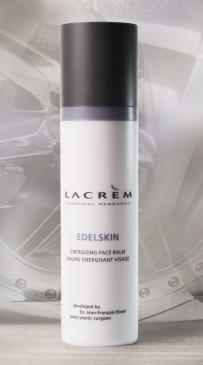 Energizing Face Balm 50 ml / 1.7 fl. oz.
More than just an after-shave lotion, this balm
is an energy lotion for devitalized skin.

- Objective #1 : « stops razor fire »
This silky balm instantly comforts and soothes
the skin, calming razor burn and easing sensations
of tightness.

- Objective #2 : « energy booster »
With the first application an intense freshness
awakens the skin whilst the balm smoothes
and reduce signs of fatigue.

For a more comfortable, stronger skin that is ready
to face a new day.
Dermatological expertise
---
Shaving is a daily assault on male skin: It destroys the hydro lipidic film; a natural protection of the skin whilst causing further damage through small cuts and abrasions. Skin is, therefore, sensitized, dehydrated, uncomfortable and irritated.
A recent study shows that 83% of men associate skin irritation problems with shaving. In response, the researchers at LaCrèm have perfected the first after-shave skin care system with a double action: soothing and energizing.

Technological composition
---
- Flex-zone complex: The synergetic action of polymers with purified vegetal extracts (ginger, white wormwood, and cinnamon) soothe the area after shaving and regulate the production of sebum.

- Aloe Vera: containing more than 200 bioactive components, aloe Vera gel is renowned for its calming and revitalizing properties.

- Hibiscus: Thanks to its toning properties, signs of fatigue are erased, wrinkles are smoothed and the skin is awakened.

Application
---
Immediately after shaving, apply in gentle circular movement starting from the bottom and then to the top of the cheek in order to stimulate blood circulation. Avoid the eye area.