Anti-Aging Eye Serum For Men 15 ml / 0.50 fl. oz.
A vital weapon against the appearance of aging - for young looking eyes that sparkle full of energy.
This fresh gel is invisible and non greasy. It refreshes the aspect of the eye contour area with its triple action:

- Action 1: anti under-eye bags
It soothes, decongests and drains the eye contour area for a significant decrease in under eye bags.
- Action 2: tightening
It erases the signs of fatigue, smoothes fine lines and illuminates the contour of the eye from the very first application.
- Action 3: anti-wrinkles
It reinforces the elasticity of the skin and restructures the delicate tissues of this area for a complete reduction of crow's feet.
Dermatological expertise
---
The first signs of aging on a man's face appear around his eyes. The look is tired and less bright, the eyelids become droopy and dark circles settle under the eye area. These signs of aging are further amplified by lifestyles that include excess stress, smoking and fatigue. LaCrèm has perfected a product for male clients that is specifically formulated for the eye contour area.
Technological composition
---
- EYELISS® : A triple active composed of flavonoïdes and peptides that will work on the eye contour area at 3 different levels, erasing under eye bags.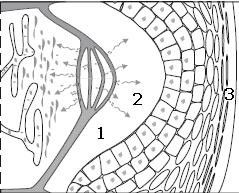 1- The serum reinforces the capillary walls within the eye contour area to avoid the escape of intracellular fluids responsible for the formation of under-eye bags.
2- It improves lymphatic drainage, helping remove the fluids that accumulate to form under eye bags.
3- It also reduces irritation and limits the skin's capacity to sag by improving elasticity and firmness.
- Flex-zone complex: The synergetic action of polymers with purified vegetal extracts (ginger, white wormwood and cinnamon) hydrate the fragile area of the eye contour and protect it from harmful environmental agents.
- Micro particles soft focus: For an instantaneous illumination of the eyes, these spherical particles reflect the light to diminish the visibility of wrinkles.
Application advice
---
Apply on fingertips to the eye contour area with gentle, light pressure. You can also apply to the eyelids or the mouth's contours for an instantaneous smoothing effect.