Revitalizing Face Massage Cream 75 ml / 2.6 fl. oz.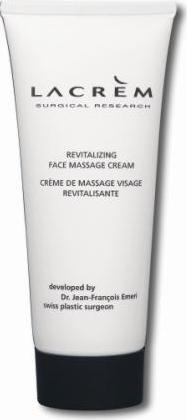 Flexible beauty care that adapts to the
needs of women…

This cream has two functions: a massage cream
and a beauty mask. This cocooning skin care can
be used in two ways depending on your needs:

- express beauty skin mask: true hydration for
devitalized and asphyxiated skin. Within 10 minutes
of application, the skin is revitalized and relaxed
promoting an illuminated and healthy complexion.

- comfort modeling cream : whilst relaxing and
healing the skin, tension is removed and circulation boosted
Dermatological expertise
---
The face has many muscles that are constantly in use. These muscles react to internal and external stresses and strains. Over time, these movements and tensions contribute to the formation of wrinkles. Regular facial massage can help stop the signs of aging, tone the muscles and activate the circulation.
Technological composition
---
This skin care cream is enriched with hydralift complex to reinforce restructuring within the skin.
Highly effective, this 2 in 1 skin care derives its potency from enriched active agents that nourish the skin. Rich in essential fatty acids, vitamins, jojoba oil and karate butter, Revitalizing Face Massage Cream constitutes essential emergency care for all sensitive and irritated skins.

Application advice
---
Express beauty mask: Thoroughly cleanse skin. Apply a thick layer to your face and neck. Let the cream sit for 10 minutes. Wipe off excess with a cotton swab drenched with Lacrem soft toning lotion. For very dry skin, use as a nourishing night care cream by applying a thin layer to face and neck. Leave cream on overnight for the fullest benefit.

Face massage cream: Apply a sufficient layer on your face and neck. Massage lightly in circular movement until the product has been completely absorbed.