Soft Biological Peeling 75 ml / 2.6 fl. oz.
For a unique sensory discovery…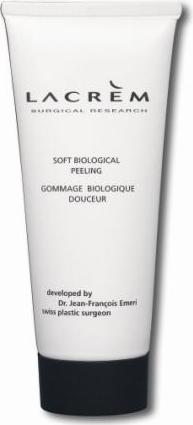 A latest innovation in skin-care, this product combines
gentle peeling without the use of abrasive grains. The
rich gel-cream texture transforms into a silky exfoliate that
combines comfort with deep peeling.

This gel-cream eliminates dead skin cells, excess
sebum and impurities while protecting the hydro lipid
barrier of the skin.

Immediate results :

1.- Skin is visibly smoother and softer.
2.- Complexion is illuminated.
3.- Imperfections are erased.
Dermatological expertise
---
Desquamation (natural elimination of dead skin cells) is a very important natural process of the skin. Problems occur when this process does not function properly: the skin's outer layer becomes thick, the complexion becomes rough, skin imperfections (brown spots, wrinkles, laugh lines, blackheads) accumulate and the skin loses its freshness and appeal.
Technological composition
---
This biological peeling cream contains an enzyme (protease) that dissolves the layers binding dead skin cells together. As the skin is massaged, dead skin cells are removed revealing new, fresh skin cells.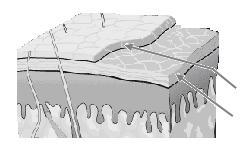 1- Skin before peeling. The complexion is rough, imperfections are accentuated.
2- Skin after peeling. The complexion is rosy, brown spots are diminished and the skin is smooth.
Dead skin cell layer

New layer of skin cells after peeling

Application advice
---
Apply to perfectly cleansed skin with dry hands. Massage lightly in circular movements until the texture of the product becomes oily. Dampen finger, the exfoliating oil becomes a milky cleanser that eliminates dead skin cells. Rinse thoroughly with lots of water.